All about Cardiff Junior Triathlon Club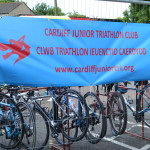 Established almost 20 years ago, the Cardiff Junior Triathlon Club caters for children from 8 years of age to 17 years of age. Whether you are training for fun, general fitness, trying to complete your first triathlon or want to improve your performance, the club offers a friendly training environment.
All our coaches are qualified via the accredited British Triathlon Coach education scheme and the club is affiliated to the British Triathlon Federation via Welsh Triathlon (Affiliation certificate).  We encourage our members to join these organisations.
Our training facilities at Maindy Leisure Centre, Crown Way give us the unique opportunity for members to experience a training session including all three of the triathlon disciplines in a safe environment as well as being able to focus training time on the 4th discipline – transition.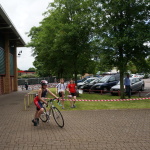 We currently train on Sunday mornings, Saturday afternoons and Monday evenings at Maindy  – see our Training page for more information.
Every June we hold an annual Cardiff Junior Triathlon giving competitors of all abilities the opportunity to complete a triathlon to the relevant age grade distances as listed below. See our Events page for more details and previous results.
Listen to Radio Wales interview the club members prior to our 2017 race - http://chirb.it/mqsdOr
Tristart: Age 8 - Swim 2 lengths (50m), Cycle 2 laps (920m), Run 2 laps (400m)
Tristar 1: Age 9/10 - Swim 6 lengths (150m), Cycle 5 laps (2000m), Run 4 laps (800m)
Tristar 2: Age 11/12 - Swim 8 lengths (200m), Cycle 9 laps (4000m), Run 8 laps (1600m)
Tristar 3 Age 13/14 - Swim 12 lengths (300m), Cycle 13 laps (6000m), Run 12 laps (2400m)
YOUTH/ JUNIOR: Age 15/16 17/18 - Swim 16 lengths (400m), Cycle 21 laps (10000m), Run 15 laps (3000m)
Interested? Contact us via any of the details listed on our Contact Us page.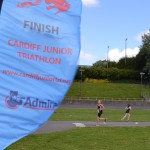 Facebook Feeds & People Who Like Us
Site Visitors